Saturday afternoon, much to their father's chagrin,* the boys and I attended a matinée showing of the newest James Bond movie, Spectre. We're big Bond fans in my family, owning the entire collection of films and always willing to debate the merits of the various actors who have taken a turn in the starring role. Roger Moore, the Bond of my childhood memories, is the actor I most associate with the role, but I can appreciate how Sean Connery defined 007 during his tenure in earlier years.
My two favorite Bonds of recent years have been Pierce Brosnan and the current star, Daniel Craig. Brosnan is very much my "type," blue-eyed and Irish, but it took me a little time to warm up to Daniel Craig. I remember thinking, prior to the release of Casino Royale, that he was too short and too blonde to be James Bond. But that was before I saw the scene of him emerging from the ocean in that blue bathing suit. Somehow that warmed me up, so to speak, to Craig.
Does it sound like I'm objectifying him? Well, that wouldn't be unreasonable, would it? I mean, it's only fair for a woman to appreciate the physical attributes of a character renowned for his own appreciation of the physical assets of…
Girls, specifically Bond girls.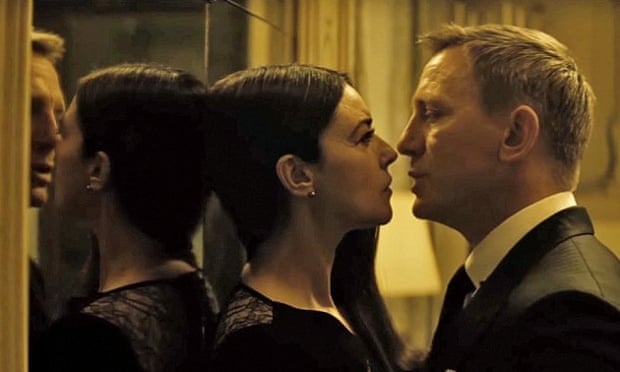 Over the years there have been countless Bond girls and, while many of them have demonstrated an intelligence even more impressive than the skin they displayed, they were on average 14 years younger than 007.  Spectre, though,  gives us a Bond female, Monica Bellucci, who not only is older than James, but one who is smoking hot. As a woman of almost the same age as Bellucci, I was thrilled to see a "middle-aged" female actress who had lines on her face, yet was ripe with sexuality. Finally.
As far as the film's plot went, there were exciting scenes filled with car chases, impossible helicopter rides and explosions leveling buildings on three different continents.  I'd give you even more details but I got a little distracted by the way Daniel Craig filled out his polo shirt and khakis.
*He usually gets dibs on new movies, especially action ones.